Christmas homelessness story inspires mum's appeal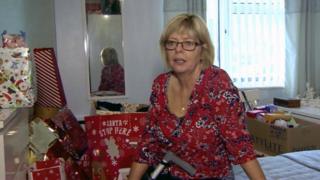 The "horrible" experience of spending Christmas on the streets has inspired a woman's campaign to collect goods for homeless people.
Sue Hartnett, from Gloucester, set up a local shoebox appeal to show homeless people they were "not invisible".
The mum-of-two said "jaws dropped" when she revealed at church that she was on the streets from the age of 10 to 16.
She expected to collect 10-20 boxes but is now expecting to hit 300, after an "amazing" response on Facebook.
Christmas shoebox appeals are run by charities across the country but Mrs Hartnett's experiences inspired her to set up her own version for Gloucester.
She set up a Facebook page a month ago for people to donate goods like toothpaste, baby wipes, gloves and shampoo in shoeboxes for Christmas.
The boxes will be distributed by Gloucester City Mission, a Christian charity supporting homeless people, before Christmas.
Mrs Hartnett slept rough while she was in care in south London - for 18 months she lived under the railway bridge at Charing Cross.
She said she remembered spending one Christmas alone in her teens: "It's horrible... You see families going for meals into hotels and you are just there and nobody really gives a damn. That's the awful thing. You do become invisible."
"I'm hoping they will enjoy them," she said.
"It's just refreshing to know that the invisible people aren't invisible. People do notice them," she said.