Ilton travellers allowed to stay in field indefinitely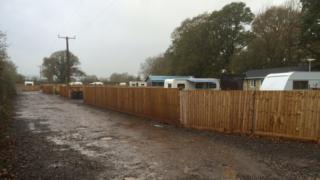 A group of travellers living in a field in south Somerset have been told they can stay indefinitely by a government planning inspector.
South Somerset District Council had rejected a planning application for six caravan pitches, amenity buildings and a play area on private land near Ilton.
But, after an appeal, a planning inspector ruled in favour of the plans.
Traveller families told BBC Somerset that they were pleased with the decision.
'Conditions attached'
This dispute began last summer, when the group of around a dozen travellers moved on to the field at Cad Way, near Ilton.
The land is a triangular-shaped field extending to 1.2 acres (0.5 hectares), bordering Cad Road and Butts Lane in Ashill.
The group of travellers, who are from the same family, applied for permission to build the caravan pitches, but in August councillors rejected the application, although it had been recommended for approval.
There were 116 letters of objection from local residents and Ashill and Ilton parish councils.
Conditions have been attached to the inspector's ruling, which prevent any further pitches.
South Somerset District Council confirmed it would not appeal the decision, but declined to comment further.