Afghan Heroes: 'Deafening silence' in charity investigation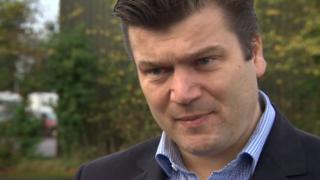 An investigation into the financial affairs of defunct military charity Afghan Heroes is taking too long, an MP has said.
The Somerset-based charity was wound down two years ago after the Charity Commission began an inquiry into possible financial misconduct.
Conservative MP for Wells James Heappey said he had written to the commission as its "silence was rather deafening".
The Charity Commission said it was "progressing as swiftly as possible".
Afghan Heroes was set up in 2009 to help former army personnel who had served in Afghanistan.
It was founded by Denise Harris whose 26-year-old son was killed in an explosion in Helmand Province in the same year.
The Charity Commission started an investigation in November 2013 and took legal action to stop the charity's bank accounts being used and any of its property being disposed of.
'Want answers'
Mr Heappey said: "The Charity Commission stepped in because they, potentially, saw wrongdoing.
"The problem is that was two years ago and nothing has come back since.
"It does beg the question for those who were involved in the charity, those who supported it and those who were helped by it, what exactly is going on because they want an answer."
A Charity Commission spokeswoman said they were "sensitive to the genuine public interest" in the outcome of its investigation into Afghan Heroes.
She said: "There are certain factors in this case that mean we cannot yet conclude our inquiry, and we will explain these once the investigation has concluded.
"In the meantime, we cannot comment further without jeopardising the inquiry's work."
She added the commission had not yet received Mr Heappey's letter but had requested his office send them a copy so they could "address his concerns".
The BBC has contacted Ms Harris who has yet to respond.