Somerset County Council applies immediate budget freeze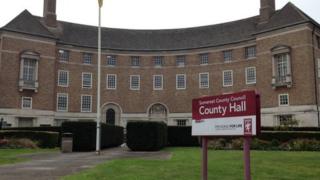 An immediate spending freeze has been imposed on all non-essential spending at Somerset County Council until April.
The BBC has been shown a staff email from chief executive Pat Flaherty about the freeze due to a £7m shortfall.
It read: "We aren't allowed to operate with massive overspends and unless we turn a corner on spending we risk ending the year £7 million overspent."
The temporary budget freeze affects non-statutory services such as libraries and roads maintenance.
Somerset County Council is the second authority in the country to impose the ban, as authorities continue to lobby against government spending cuts.
'Not popular'
Mr Flaherty added the move also affected recruitment for vacancies unless absolutely necessary and "infrastructure would only be maintained to a safe and statutory minimum level".
Somerset County Council has a budget of £325m however the council's reserves have been depleted in recent times, in part due to extra spending on children's services.
The email went on to say: "This will not be a popular step and I accept that.
"I know that many of you are doing valuable work that doesn't readily fit under the heading of a statutory service.
"What I am saying does not devalue that work, it simply accepts the painful reality that this council has to reduce its spending immediately if we are to be able to fulfil our statutory requirements to support the most vulnerable people in our communities."
Earlier in the month the council announced it would cut £900,000 spending on non-statutory support from its homeless budget.
Mr Flaherty said some of the reasons behind the spending freeze were the "continuing austerity cuts", the rise in the National Living Wage rate, demographical pressures and inflation.
The BBC is awaiting a response from Somerset County Council about the email and spending freeze.