Tory PCC candidate chosen for Avon and Somerset police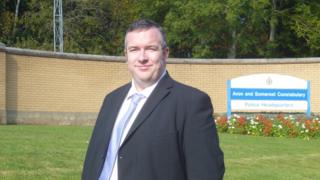 The Conservative party has chosen its candidate in the forthcoming Avon and Somerset police and crime commissioner (PCC) elections in May.
The PCC's responsibility is to control the police force's budget and appoint the force's Chief Constable.
Leader of the Conservative party at Bristol City Council, Mark Weston is also a Police and Crime Panel member which scrutinises the PPC's work.
Mr Weston said his firm belief was to preserve "bobbies on the beat".
He added: "There are those that will argue that 'bobbies on the beat' do little to cut crime rates but I disagree.
"I believe that they are vital for restoring public confidence, cutting anti-social behaviour and reducing re-offending."
The current PCC, independent Sue Mountstevens, has not confirmed whether she will stand again in next year's election.