Somerset baby abuse case reveals agency failings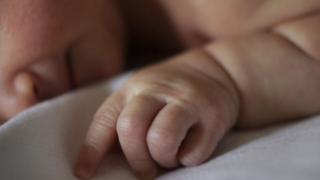 A serious case review into the abuse of an 18-day-old baby in Somerset has found the father was known to social services and that police failed to share vital information.
In 2013, Child Y was taken to hospital in Taunton, where doctors found significant brain injuries.
The review has made several recommendations, such as police sharing domestic abuse incidents with agencies.
The parents were later prosecuted for causing grievous bodily harm.
'Communication failures'
The investigation found Child Y's mother was not known to social services, but police had attended a domestic violence incident involving the mother, who was pregnant at the time, and one of her parents.
The 22-year-old father was known to social services and already had two children with whom he was no longer in contact.
The review was conducted by the Somerset Local Safeguarding Board. Independent chair Sally Halls said: "Improved vigilance and better communication and information-sharing by health professionals could help reduce the risk of such an incident occurring again in the future.
"In this case, professionals believed the best of the parents without remaining alert to potential social risk factors."
Health professionals have also been told to use existing safeguarding guidelines known as the Unborn Baby Protocol.
'Heartening'
In light of the review, a children's charity has called for agencies to tackle "pockets of inaction" where the message of safeguarding is not getting through.
Claude Knights from the charity Kidscape said: "Nothing absolutely new is being said. We know what we should be doing - we need to do it.
"It is heartening to hear that since this tragedy in Somerset improvements have been made.
"Of course people who work in social services are there because they want to support and protect children and want to make a difference."
Agencies have taken a number of steps to address the failings highlighted by the review.
These have included incorporating the Unborn Baby Protocol into core training for health professionals, circulating the guidelines to police and telling GPs to flag up domestic violence incidents.
Guidance has also been given to ensure parents are challenged more by health professionals.