Jacob Rees-Mogg MP's family nanny marks 50 years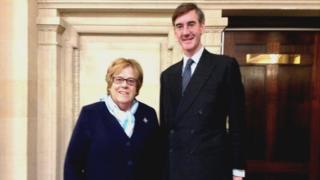 The nanny of MP Jacob Rees-Mogg, who has taken care of his family's children since the 1960s, has marked 50 years in the job.
Veronica Crook looked after the Conservative MP from birth, and now cares for his four children.
She started working for the Rees-Moggs in 1965 with the arrival of Charlotte and later her younger siblings, Emma, Thomas then Jacob.
Mrs Crook said the MP was a "noisy baby" but was "a one-off" as a boy.
Mr Rees-Mogg added: "Fifty years is just terrific, it's such a rare thing and we've been so lucky as a family."
'Happy childhood'
The Conservative MP for North East Somerset was the fourth of five children, with the youngest being his sister Annunziata.
Ms Crook said the young Mr Rees-Mogg's behaviour was "perfect, or for most of the time was perfect".
"He wasn't really naughty, he was a one-off, he was different. He did his own thing, didn't copy - he had that sort of attitude," she said.
Mr Rees-Mogg said he had come to view Mrs Crook as "a most important member of the family".
"It's wonderful to see Veronica with my own children because she speaks to them in exactly the same way as she did to me," he said.
The most useful advice she gave him was "not to be led by the crowd but to do what you think is right", he added.