Don Foster to accept "ludicrous" Lords peerage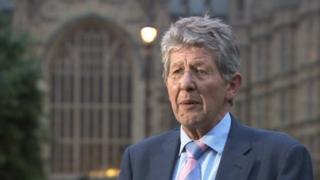 Former Bath MP Don Foster says he will join the "ludicrous" and "grubby" House of Lords - despite being opposed to an unelected second chamber.
He told BBC Radio Bristol: "If there's a vote on the abolition of the House of Lords, I will be voting for it."
Mr Foster, who retired in May, is one of 11 new Lib Dem peers announced in the dissolution honours list.
Members of the House of Lords are appointed by the Queen, on the advice of the prime minister.
Mr Foster, MP for Bath from 1992 to 2015, told the BBC the process was "absolute nonsense" but denied it was hypocritical to accept a life peerage, along with the £300-a-day allowance for days attended.
'Ludicrous' system
"I don't think we should have patronage deciding who the people who make our laws should be. I'm opposed to that, of course it's incredibly grubby.
"I also think it's ludicrous that we have a house that has 826 members."
But he added: "I want to get rid of it and the only way in the current system of getting rid of it, is having people there who will do just that. It's not hypocrisy at all."
Lib Dems Vince Cable and Danny Alexander are thought to have turned down a peerage but have been knighted.
Plans to make the House of Lords 80% elected and reduce the number of peers to 450 were shelved by the coalition government in 2012, amid backbench opposition from Conservative MPs.
Mr Foster is unlikely to get a vote on the issue in the near future.
The Conservatives' 2015 manifesto said: "While we still see a strong case for introducing an elected element into our second chamber, this is not a priority in the next Parliament."