Cricketer Farm cheddar cheese firm near Bridgwater to stop production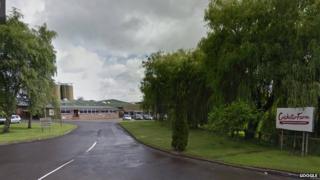 A cheddar cheese producer in Somerset has said it will cease production because of "challenging times" in the dairy industry.
Cricketer Farm in Nether Stowey near Bridgwater has made cheese since the 1940s and employs almost 70 people.
A spokesman said the firm had suffered "significant financial losses" over the past financial year and production would stop over the next six months.
He said it had also lost a contract to supply to a "major customer".
A spokesman said it was not viable for the company to continue because of a "period of uncertainty in the UK dairy market".
Support and advice would be provided to employees and supplying farmers, he said.
Cricketer Farm launched its Cheeky Cow brand of cheese in 2013 and supplies it to Asda and Tesco supermarkets.
Conservative councillor for the area John Edney said the news was a "bolt out of the blue" and he was "shocked and very saddened".
"The village of Nether Stowey is the main source of its employees, it's bound to affect the local economy," he said.