Hundreds attend Taunton anti-badger cull protest march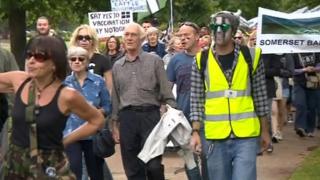 Hundreds of people who oppose the planned culling of badgers in Somerset and Gloucestershire have marched through Taunton to protest.
The march was organised by the Badger Trust, Somerset Against the Badger Cull and the Somerset Badger Patrol.
The government has sanctioned culls in a bid to stop the spread of bovine TB.
Vet Mark Jones said the cull "will cause animal suffering with no clear benefit" and called on the government to support vaccinating badgers instead.
"If you're going to trap badgers, then vaccinate them don't shoot them," he said.
Mr Jones who is the policy manager for the Born Free Foundation wildlife charity said there was "real concern" from the public about the level of animal suffering caused by the culls.
An Independent Expert Panel was appointed by the Department for Environment, Food and Rural Affairs (Defra) to help ministers evaluate the effectiveness, humaneness and safety of the Gloucestershire and Somerset pilots.
It found the cull to be "inhumane and ineffective".
But ministers and farmers insist culling is necessary to address TB in livestock, which resulted in more than 26,000 cattle being slaughtered in England last year and multimillion-pound losses.
Environment Secretary Elizabeth Truss said: "We are pursuing a comprehensive strategy supported by leading vets which includes cattle movement controls, vaccinating badgers in edge areas and culling badgers where the disease is rife.
"This is vital for the future of our beef and dairy industries, and our nation's food security."
Dominic Dyer, CEO of the Badger Trust, said the cull had been "a complete disaster on scientific, cost and humaneness grounds".
"Two years of badger culling has resulted in the death of 2,476 badgers at an estimated cost of £15m to the tax payer.
"However the real scandal is that nearly all the badgers killed will not have bovine TB (bTB).
"The government's continued refusal to test badgers for bTB not only makes this a 'blind cull' but also means we will never be able to say whether it has worked."
Members of Somerset Against the Badger Cull and Somerset Badger Patrol said they would be out in the cull zone to monitor, observe and walk the footpaths in peaceful opposition to the cull.
No start date has been set for the culls in Gloucestershire and Somerset.