Nick Gargan profile: Troubled end for high-flying police chief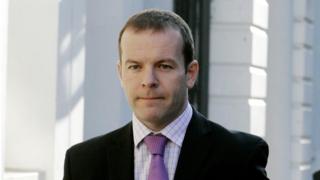 Avon and Somerset Chief Constable Nick Gargan has quit, after being found guilty of eight counts of misconduct. Here BBC News examines the career of a policeman who seemed destined for great things.
A high-flying opera lover and Twitter enthusiast, Nick Gargan was tipped by some to one day take Britain's top policing job.
He did not fit the stereotype of the old-fashioned copper and admitted to the Guardian that he was not the sort of chief constable of whom the hard-drinking Inspector Rebus of Ian Rankin's novels would approve.
Joining Avon and Somerset Constabulary at the start of 2013, he was one of the first chief constables to be chosen under the new system of police and crime commissioners (PCCs), which replaced police authorities.
His predecessor Colin Port's departure had not been without controversy. New PCC Sue Mountstevens had asked him to reapply for the job - Mr Port refused and stepped down, but not before challenging her decision in the courts.
'Diana cop'
The story was flagged up as an example of tension between the new PCCs and chief constables, amid rumblings from some that their operational independence could be compromised.
In contrast, Mr Gargan pledged "partnership" with Ms Mountstevens and said people would "be looking at me to settle things down and basically just get on with the job".
Aged 46, he already had quite a CV.
A fast-track graduate entry to the police, his early career included a stint in Paris, working as a liaison officer during the investigation into the deaths of Diana, Princess of Wales and Dodi Al Fayed.
Mr Gargan was later dubbed "Diana cop" in headlines.
He had been assistant chief constable at Thames Valley Police, before joining the National Policing Improvement Agency (NPIA) in 2010, rising to become chief executive.
The national lead for police chiefs on intelligence and police budgets, he appeared comfortable in the public eye, giving lectures and interviews.
'Bristol crocodile'
It was the sort of career that led newspapers to refer to him as a potential Metropolitan Police commissioner.
After the NPIA was wound up, Mr Gargan was snapped up at his first job interview to be chief constable of Avon and Somerset.
He started work in March 2013 and was known for his chatty Twitter updates including a notorious overheard sighting of the elusive "Bristol crocodile".
He told BBC Radio Bristol in March 2014: "Some people say the police can be a bit remote and a bit distant from their communities and one of my priorities is to say: 'Actually, your police force is full of normal people, who like to have a laugh'."
But Mr Gargan's push for change at Avon and Somerset Police, within months of arriving, irritated some. He favoured a direct-entry scheme to allow non-officer police staff to take jobs at inspector or chief inspector level, skipping the lower ranks.
This was in line with Home Office thinking, but the local Police Federation branch described it as a "half-baked idea" and said "people who have not seen a dead body" could not earn the respect of colleagues.
Maximum sanction
When news broke of allegations of inappropriate conduct towards female staff, Mr Gargan was said to be devastated.
He was suspended in May 2014, 14 months into the job, while the police watchdog the IPCC investigated. Separate allegations of data protection breaches emerged.
During the inquiry, the IPCC said it "became apparent that many of the original hearsay allegations were unfounded" and no women made formal complaints about his behaviour. The investigation found allegations about his conduct towards women were not proven.
But it noted there was evidence to suggest "that he had actively sought relationships within the workplace" and one woman had described "difficulties it caused her at work". In this case, the IPCC said, Mr Gargan had shown "flawed judgement".
The process was beset by delays and it would not be until July 2015 that an independent QC-led panel would clear him of gross misconduct - a sackable offence.
It found him guilty of eight charges of misconduct, largely relating to "inappropriate disclosure of information" by forwarding emails and "inappropriate use of police-issued iPhone" by storing "intimate" images and text messages - although the report noted that the photographs "could not be described as obscene or indecent".
It recommended eight final written warnings.
'An embarrassment'
But the final word rested with the PCC and pressure began building from the local Police Federation and retired officers who were unhappy at the prospect of Mr Gargan returning to the force.
Three former chief constables wrote to Ms Mountstevens saying leaders should be "inspiring not an embarrassment".
She responded by announcing her intention to use powers available to her under the Police Reform and Social Responsibility Act to effectively force him out - the first PCC to do so.
The Chief Police Officers' Staff Association said in August Ms Mountstevens' announcement in August had come as a "huge disappointment" to Mr Gargan, who was "deeply sorry" for his behaviour and wanted to return to "rebuild confidence in the force and in him as its leader".
But she had the backing of Her Majesty's Chief Inspector of Constabulary, Sir Thomas Winsor, who said she was "entitled and justified" to call upon him to resign because of a lack of confidence in him by his senior officers.
Ms Mountstevens said Mr Gargan had lost the confidence of the force and there was "now a detrimental impact on the efficiency and effectiveness of him leading Avon and Somerset Constabulary".
It is a long way from their joint appearance before MPs in January 2014, when their "harmonious" working relationship was held up as an example of good practice.
That day Ms Mountstevens told MPs she had to ensure "that it does not become too cosy a relationship, because I hold him to account".