WI to serve tea and home-baked cake at Glastonbury Festival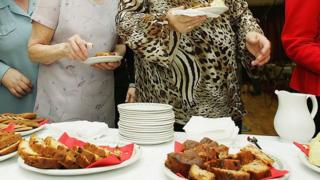 The Women's Institute (WI) is setting up a tea and cake stand at Glastonbury Festival, for the first time this year.
Based in the event's Green Fields area, Somerset WI members are expecting to serve more than 1,000 helpings of tea and home-baked cake a day to revellers.
Katie Newell, from Puriton and District WI, said: "We might do more, we just don't know but we won't run out of tea and cake - we're the WI."
A rota of ladies will run the tea tent, all five days from 10:00 to 19:00 BST.
The sold-out festival, headlined by veteran rockers The Who with other big acts including Foo Fighters, Kanye West and Florence And The Machine, is due to open its gates next month.
But with just five weeks to go, Ms Newell said "lovely ladies" across the county were already busy baking a "phenomenal number of cakes" to freeze.
"We have ladies baking sponge cakes, lemon drizzle cakes, chocolate cakes and fruit cakes - as we speak," she said.
"We don't know how many we'll sell but who doesn't need a cup of tea and a slice of cake at some point after a big party - it's the best way to chill out after you've been dancing."
'Proves WI progressive'
Formed in 1915, the institute is celebrating its 100th anniversary this year.
Ms Newell said being at Glastonbury would not only attract new members but show the institute was progressive.
"We felt we really needed to do something that proves that the WI is going forward into the next century as well as celebrating having lasted this last century," she said.
"We want to show everybody the amazing work the WI does and Glastonbury Festival seemed like a really good way for us to be represented."