Taunton Bus Station receives Red Wheel award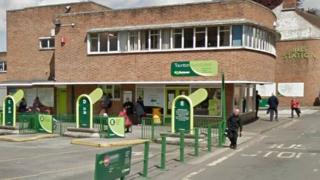 A 1950s bus station in Somerset has been granted an award in recognition of its historical importance.
Taunton Bus Station has been awarded a Red Wheel plaque by the Transport Trust.
The Red Wheel scheme - much like English Heritage's Blue Plaques - commemorates transport sites of historical value.
Opened in November 1953, the bus station is one of a dwindling number of 1950s bus stations still in use.
Peter Snowden, from the Taunton Historic Bus Group, said: "Strange as it may seem - out of the many bus stations built across the country, Taunton is one of the few remaining original ones.
"So it is being recognised as one of the survivors of what once were very common structures and buildings."