Dossier of 'divisive MP' Ian Liddell-Grainger sent to PM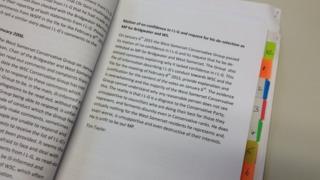 A 125-page dossier outlining the "destructive behaviour" of a Tory MP has been sent to the prime minister.
Conservative leader of West Somerset Council Tim Taylor, compiled the document about Ian Liddell-Grainger, MP for Bridgwater and West Somerset.
Mr Taylor said: "The problem is the divisive behaviour, setting people against each other instead of bringing people together."
Mr Liddell-Grainger has declined to comment about the allegations raised.
In January, a majority of 18 Conservatives from West Somerset Council backed a vote of no confidence, calling for the MP to be deselected.
Photograph altered
The dossier contains emails and letters of complaint from councillors and members of the public, as well as local media coverage of Mr Liddell-Grainger's conduct.
It has also been sent to the Conservative party chairman, Grant Shapps, and Conservative chief whip, Michael Gove.
Its compilation comes after failed efforts made by Conservative politicians to get him deselected as the Tory candidate ahead of the next general election.
Mr Taylor said: "I don't think it will get Ian deselected before the general election, but afterwards there will be a big effort within Conservative circles to ensure Ian's behaviour with West Somerset is balanced and measured and part of informed debate."
The spat between the two politicians was also highlighted last year, when Mr Liddell-Grainger erased Tim Taylor from an official photo.
---
Ian Liddell Grainger dossier includes:
Claims he did not support West Somerset Council's debt reduction work and shared arrangement with Taunton Deane Borough Council
Generally speaking about the council negatively, without checking facts
Letters from constituents. One reads: "I was shocked by your lampooning our chief executive officer, Adrian Dyer, rubbishing West Somerset Council as 'dead in the water' and sneering at your constituents."
Turning people against each other and trying to set up meetings with a council officer in a pub, which Mr Taylor states is "inappropriate and clandestine"
Disrupting planned meetings with various bodies or people, which are described as "embarrassing"
Making potentially defamatory comments, with allegations that had no basis in fact, that a locally respected businessman took "back-handers"
---