Trampled hunt saboteur case re-examined by CPS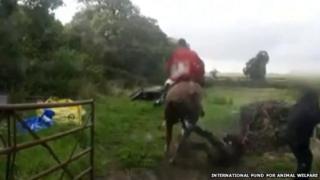 A decision not to prosecute a rider whose horse trampled a hunt saboteur, leaving her with seven broken ribs and a collapsed lung, is to be re-examined.
The woman was hurt during the Blackmore and Sparkford Vale Hunt on the border of Somerset and Dorset in August.
The huntsman was arrested on suspicion of causing grievous bodily harm but the Crown Prosecution Service (CPS) decided not to proceed with bringing charges.
The CPS is now reviewing the case under the Victims' Right to Review Scheme.
'Absolutely abandoned'
The CPS said it originally decided not to bring the case to court as there was "insufficient evidence that the incident could have been foreseen".
The victim, a medical professional who asked not to be identified, said: "As I lay in hospital the only thing on my mind was 'have they got this on video?' Because I wanted to ensure it was looked at properly.
"If you ride at speed through a narrow gap where there are clearly people standing, there must be a risk of hitting them.
"I'm a victim of crime and feel absolutely abandoned by a system that's supposed to protect me."
The master of the Blackmore and Sparkford Vale Hunt, Rupert Nuttall, said he was "clearly sorry that the accident happened in the first place".
"It's up to them [the CPS, whether to bring charges] - it's nothing to do with us."
A petition calling on the CPS to reverse its decision not to prosecute has gathered almost 12,000 signatures since February.
Campaigners from the International Fund for Animal Welfare believe the decision not to proceed with the case was "legally flawed".
They argued because the incident and the injuries "were so serious" that "a court of law with a jury should have made the decision and not someone in a CPS office".