Porlock oysters get top hygiene rating by FSA inspectors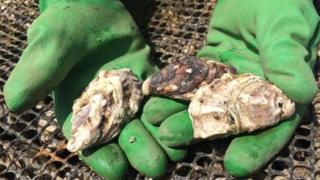 A Somerset village trying to revive its tradition of shellfish farming has achieved the Food Standards Agency's top hygiene rating.
The rating means oysters grown in Porlock Bay do not need to be cleaned first before being eaten.
Oyster and mussel beds have been put into the sea in the bay as part of a £17,000 two-year project.
The rating also means the oysters can be sent directly to restaurants in the local area.
Roger Hall from Porlock Bay Shellfish said: "We've got the very best classification you can have. It means they have the minimum of bacteria."
'Finest tasting oysters'
The project has been funded by Porlock Parish Council and Exmoor National Park.
"There are some restrictions on the quantity of oysters that you can sell and the area you can sell them in," said Mr Hall.
"If we get to a larger scale then we'll have to set up a proper processing plant."
Porlock Bay used to be home to oyster and mussel beds but the tradition died out in the 19th Century.
"There was an oyster industry in the late 1800s and they had a reputation nationwide of being the finest tasting oysters in England and Wales," said Mr Hall.
The type of oysters being grown in Somerset are the larger Pacific variety, while the only other oyster farm in England to achieve the top rating grows the native English oysters which are smaller.
If the trial is successful, the group has said it intends to set up what will be the first "community sustainable shellfish farm" in the UK.