Weston's Winter Gardens sold to Weston College for £1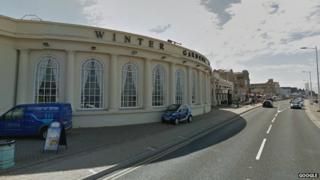 Councillors have voted to sell Weston-super-Mare's Winter Gardens to Weston College for £1.
The authority agreed to sell the freehold to help the college create a new campus and support its ambition to become a university.
Weston College has secured a £15m grant from the Local Enterprise Partnership fund for the redevelopment project.
The plan was criticised by Weston Civic Society, claiming there was no public consultation. The council denies this.
The college is expected to take over the site in September from the current leaseholder, Parkwood Leisure.
'Vibrant economy'
North Somerset Council's Tony Lake said: "I am delighted that the Local Enterprise Partnership supports our approach of linking education with the future regeneration of the town centre, as this investment will act as a catalyst for other activities.
"As we have seen in other parts of the country, education is an important part of the mix in a vibrant and successful town centre economy."
North Somerset Council has also said the transfer will have covenants attached to ensure the community can still use the venue for local events and festivals.
A new public access on the seafront will also be installed.
Civic Society spokesman Reverend Dr David Agassiz, said the group had been "appalled" over the lack of consultation.
However, the council has said meetings to discuss the plan were held in public where views could be heard.