Hospital stroke patient, 84, 'left to lie in own urine'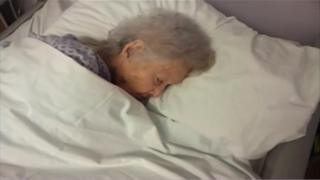 A hospital is to hold an inquiry into claims a critically ill stroke patient was left to lie her own urine in a "freezing cold room" on Christmas Day.
Elsie Keirl's son, David, said his 84-year-old mother was left in this state for more than 10 hours at Musgrove Park Hospital in Somerset.
He said: "She spent her last Christmas in a freezing cold room with inadequate bedding, laying in her own urine."
The hospital said it could not comment until its investigation is complete.
One blanket
The hospital's deputy chief executive, Peter Lewis, told the BBC the allegations were "extremely serious" if true.
Mr Keirl claimed the radiator in his mother's room was not working yet she was given only one blanket when she was admitted at 21:00 GMT on Christmas Eve following her stroke.
"When I visited at about 11:30 in the morning [on Christmas Day] she was in a side room with some form of air vent blowing cold air," he said.
"Her lips were blue, her ears were white, she was obviously in great distress and traumatized."
Nurses also failed to turn her in her bed for most of the day, Mr Keirl claimed.
After repeated complaints, the 84-year-old was moved to a warmer room, but, according to her son, another patient was then moved into the cold room.
Following a formal complaint, the hospital's chief executive, Jo Cubbon, rang Mr Keirl on Boxing Day evening.
"She said the matter would be looked into and she was very kind and understanding - but that doesn't change a thing," he said.
"I'm just hoping as a result of this interview, it may prevent it happening to some other poor old person who has nobody to fight their corner."
Mrs Keirl has since been moved to another ward where she is being adequately cared for, her son said.