Thomas Downey death: Men questioned by murder police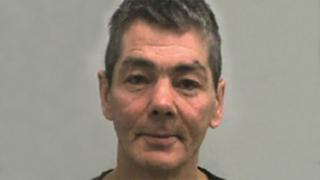 Two men have been arrested on suspicion of murdering a homeless man in Bath on Christmas Eve.
Thomas Downey, 51, known as "Manchester Tommy", was discovered with "significant head injuries" near Bath railway station just after 13:30 GMT.
His body was found by a member of the public under a railway arch on the Lower Bristol Road.
Thomas Downey made the news in 2011 when he was jailed for stealing doughnuts during the Manchester riots.
'Brutal attack'
Det Insp Julie MacKay said he had suffered "a brutal attack" and she described the investigation as "challenging".
She said Thomas Downey, who was originally from Manchester, had lived in Bath for quite a long time and was a regular around the city centre.
"We know the arches was one of the places that he slept in but there were others as well. I'm keen to find out where he was last seen in the city and any sighting of him up to a week before would be helpful," she said.
Det Insp MacKay said they were still trying to ascertain when the attack had actually taken place and she said the homeless community had been "really good and helpful in trying to assist".
She asked for anybody who may have seen Mr Downey or witnessed any disruption or disorder around the arches in the seven days leading up to Christmas Eve to contact the police.
She said they were continuing to question the two arrested men, in their 30s, about the attack.
Mr Downey was sentenced to 16 months in prison, in August 2011, after becoming involved in riots in Manchester city centre.
He was caught with a box of doughnuts which he had taken from a Krispy Kreme shop in Piccadilly Gardens.
Manchester Crown Court was told he had taken the doughnuts because he was hungry and had recently been released from prison with only £4 in his pocket.