Medieval pavement in Somerset to be protected by permanent pavilion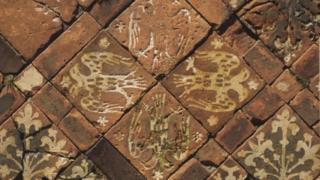 Plans to build a pavilion to protect a medieval pavement in Somerset have been approved by councillors, even thought it would "adversely affect" the site.
The timber pavilion is due to replace a marquee which currently houses the 13th Century tiled pavement at Cleeve Abbey.
Conservative councillor Anthony Trollope-Bellew said the new structure was the "least-bad option".
But English Heritage, which manages the site, said it would "complement rather than challenge the abbey".
Described as the "best example of medieval tiles in Europe", the ornately decorated pavement was discovered at the former Cistercian monastery at Washford in 1876.
But English Heritage said the tiles had suffered "significant deterioration" since they were revealed and put on public display in the 1950s.
Although West Somerset councillors were advised the structure would "adversely affect" the "setting of Cleeve Abbey", it was decided the "justification given to protect the pavement overrides the harm created".
Mr Trollope-Bellew said: "The tiles need protecting but it's the least bad option.
"I don't like it but it's better than a marquee."
Ann Towers, from English Heritage, said: "The real challenge has been balancing the preservation of the tiles with the need to design a building which sits comfortably alongside the existing monument," she said.
"Now that permission has been given we hope to start work on the building in the spring ahead of opening in the summer."