Flood-hit A372 road to re-open with temporary bridge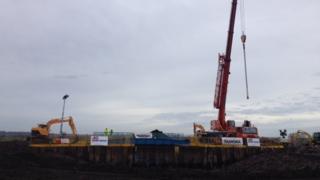 A section of flood-hit road on the Somerset Levels is to reopen before Christmas after the installation of a temporary bridge.
The A372 between Aller and Othery, which was flooded last winter, has been closed since September for flood prevention work.
Somerset County Council said the route would reopen on 19 December.
Culverts will be installed next spring and then the road resurfaced and bridge removed.
Council leader, Conservative John Osman, said: "There were two pinch points where the water could not get through quick enough, so we're giving the system more capacity, more places where the water can go in a controlled way and not out in to the fields.
"The water can now get down the River Sowy into the King Sedgemoor Drain that much quicker."
The road was closed between January and March because of flooding and so that pumps could be placed on it to take water from the surrounding flooded land.