Lifeboat station given £500,000 anonymous donation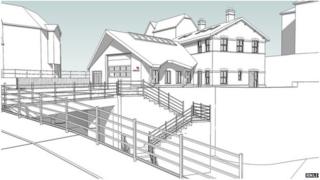 An anonymous donor has given more than £500,000 to help fund a new lifeboat station in Portishead, North Somerset.
The Royal National Lifeboat Institution (RNLI) is building a new centre for Portishead Lifeboat Trust's volunteer crew, which it plans to "adopt".
The donor wants the money to go towards a new ramp, track and slipway to allow lifeboats to be launched in any tide.
The trust said it was an "incredible amount" and it had "never received anything on this magnitude before".
The £1.9m purpose-built centre, being built on the site of a former Masonic lodge, is due to be complete in February.
Along with the local volunteer crew it will also house an inshore lifeboat.
"The RNLI set a community target of £232,000 for us to raise locally," said Jon Yabsley, chairman of the boathouse appeal.
"We're just overwhelmed by it - £500,000 is significant in anybody's book - it's a tremendous donation."