Bigger pools needed for rescued seal pups at Somerset sanctuary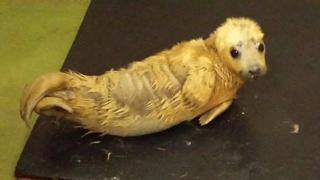 A Somerset wildlife centre said it needed more pool space to cope with the number of seals being brought in
The RSPCA's West Hatch Wildlife Centre, near Taunton, is currently caring for 23 baby grey seals brought in from across Devon, Dorset and South Wales.
Last year, it took in 44 pups - the most it has ever dealt with - but this year it is expecting to admit 70.
Paul Oaten, from the centre, said: "This is the most we've seen, if this goes on we're going to have to grow."
Despite being 20 miles (32km) from the coast, West Hatch is the RSPCA's oil bird cleaning unit dealing with seabirds following an oil spill.
With several "oil bird pools", it also looks after up to 40 orphaned and abandoned seals each year.
But this year, following the closure of a sanctuary in South Wales, the centre is expecting to take on an additional 30 to 40 seal pups.
"We're fairly full with seals. We've got 23 in at the moment, so for this time of year it's a lot of seals for us," said Mr Oaten.
"This is the most we've seen and with pup season extending into February, we've still got a few months of pups coming into us."
'Move the ducks'
With winter storms ahead and a rising seal population in the South West, the sanctuary said it was expecting at least 70 pups this year.
But with just seven shallow pools to cater for the animals, Mr Oaten said the centre needed "bigger pools" to get the pups "fit for release".
"We're hoping to move the ducks from the waterfowl paddocks and use that pool," he said.
"But if this is something that's going to be going on, year-on-year, we're going to have grow to be able to cope with the increase of seals."