Shepton Mallet Prison's future 'should be done with local input'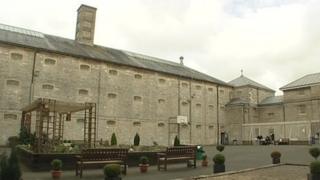 A campaign has begun in Shepton Mallet calling for the community to decide the future of the town's prison.
The 400-year-old building closed along with seven others as part of government cutbacks announced in January 2013.
Campaigner Claire Sully said: "My biggest fear is that a property developer takes over and turns it purely into housing."
The Ministry of Justice (MoJ) has said bids are being evaluated and commercial negotiations are continuing.
'Massive space'
Last month, two local bidders had their applications turned down. The government has not revealed any details about current bids that are being considered.
Ms Sully added: "It's a massive space; there's an opportunity for mixed use, for business to be in there and space for the community; because Shepton has no venue for communities to get together."
Mendip District Council said it had asked the government agent selling the prisons to run a public consultation, but this was not done due to time constraints.
Tessa Munt, the MP for Wells, said: "They say they are in commercial negotiations which means in reality, I suspect, they have chosen the person they think is the right person to buy the prison and that means we won't be able to do anything about it until they exchange contracts.
"They have promised to let me know when they have exchanged contracts but of course by that time really, it'll be too late."