Starlings on Somerset Levels create Twitter interest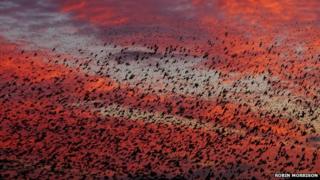 A wildlife photographer has said he is "amazed" by the response to pictures he took of starlings gathering on the Somerset Levels.
Robin Morrison photographed the birds at the RSPB's Ham Wall reserve and then released the images on Twitter.
The RSPB, said it was "delightful" to see people's pictures of the starlings which are "a declining species".
Mr Morrison said he posted regularly on social media but almost 10,000 views made this one of his most successful.
Gatherings of thousands of starlings can be seen during the winter months.
Mr Morrison said: "In good years they can reach a million".
It is thought the birds group together to deter predators and also to keep warm and share information on good feeding areas.
Mr Morrison said the birds moved fast and the way to get the pictures was to be mobile which is why he rides to the locations on his bike.
He said: "The number of birds in these breath-taking spectacles has to been seen and heard to be believed. The sky is full and black with the birds.
"I was lucky with all the natural elements coming together. There was a spectacular sunset going from yellow to red, the birds were active and they dropped into a reed bed right in front so that I could use the stunning sky as a backdrop.
"A set of events that rarely come together."
Tony Whitehead, from the RSPB, said the "huge numbers" of starlings at Ham Wall has "always attracted a lot of interest".
The charity is carrying out a national research project to find out the cause of the declining starling population with part of the study based in Somerset.
Mr Whitehead said it involved monitoring nests with cameras to see how the chicks are being fed.