Missing London dog Joules found in Somerset a year later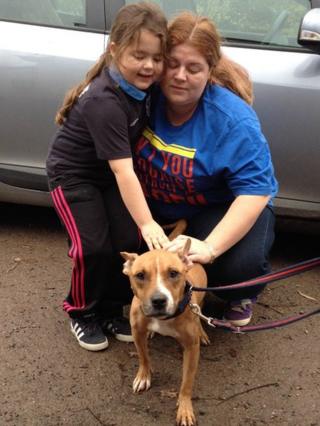 A dog that went missing from its north London home a year ago has been found about 150 miles away in Somerset.
The Staffordshire bull terrier called Joules has been reunited with her owner Liz Wilson-Roberts, who now lives in Essex.
South Somerset District Council picked up Joules after she was found in Yeovil.
The council's enforcement officers believe she was originally stolen to be used in dog fighting.
'Made Christmas'
A council spokesman said officers think this because of Joules's breed and the distance she had travelled.
Ms Wilson-Roberts, who had always suspected Joules was taken for dog fighting, said: "I am absolutely delighted to have got her back after a year and my five-year-old daughter is ecstatic. It has certainly made her Christmas."
Joules, who has recently had puppies, was found by a member of the public and taken to Wyndham Hill Veterinary Centre.
Enforcement officers collected the dog and scanned her for a microchip, which showed she was registered to a property in Enfield.
Councillor Jo Roundell Greene, portfolio holder for environment and economic development, said: "If a dog has an identification tag, the wardens will seek to return it immediately to its owner.
"On this occasion, it appears that the dog was stolen and has been living in Yeovil. We are delighted to have reunited Joules with her rightful owner."