Somerset's children 'not well served', Ofsted says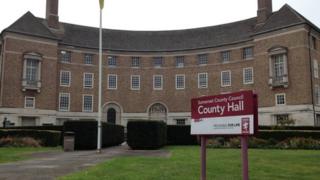 Ofsted has said vulnerable children and families in Somerset are "not being well served".
The government body has written to the county council after inspecting 39 facilities for children and young people in September and October.
Ofsted South West director Bradley Simmons said "urgent action" was required to ensure the safety and wellbeing of children in the county.
Somerset County Council said it will be making urgent improvements.
Ofsted said the 39 inspections were carried out across "all children's services remits", which included primary, secondary, special and independent special schools, pupil referral units, children's homes, children's centres and nurseries.
'Let down'
Mr Simmons said: "Bringing together this series of inspections for the first time has given a unique insight into the quality of services children in Somerset receive."
He said the council "deserved credit" for improvements in the performance of primary and secondary children from "both disadvantaged backgrounds and the most able students".
But he added: "However, it is disheartening to see that the most vulnerable children, young people and families who rely on crucial services for care and support are being let down.
"It cannot be right that children's centres serving over 13,500 children under five years old living in the centres' catchment area are receiving a poor service."
---
Ruth Bradley, BBC Somerset politics reporter
The interview given to BBC Somerset was the first time the new interim director of Children's Services at the council had spoken publicly.
Rose Collinson came from Walsall Council to Somerset on a four-month contract, costing the council £70,000. She replaces previous interim director Peter Lewis, who cost the council £318,000 a year.
But instead of blaming the criticism from Ofsted on her predecessor, Ms Collinson accepted the "disappointing" report and said since arriving in the county she'd been "welcomed".
"I think the will and the skill are there," she said. "We need to harness that collective passion and purpose for children."
---
The poor service at the children's centres related to the safety and welfare of the most vulnerable children, as well as early intervention.
The new interim director of Children's Services, Rose Collinson said: "What we've done with our children's centres is address those immediate safeguarding concerns, you would expect that and we've done that but we do need to do is target those families and children who need help the most."
Ofsted also said children's homes were not giving children a consistent level of care.
Ms Collinson said the council had taken "decisive action" to close the two homes before Ofsted carried out its inspection.
Cabinet member for children's services, Frances Nicholson, said: "Everyone knows much improvement is needed urgently in many areas, but it's important also to recognise the positives.
"We have put a lot of effort into supporting improvements in primary schools and that is making a difference for children.
"We have acknowledged where things are not good enough for children, we are committed to driving urgent improvements and these are already under way."
She added that 85% of primary and secondary schools in the county were now judged to be good or outstanding by Ofsted, compared to the national average of 80%.