Weston car park will cost council £20,000 a month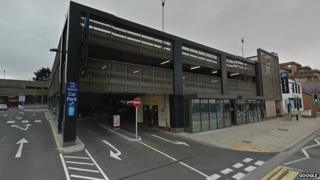 A loss-making car park in Weston-super-Mare is set to cost the council £20,000 a month from April 2015.
Developers have been subsiding the monthly loss at Carlton Street car park but this money runs out at the end of the financial year.
North Somerset Council said in the long term the car park would make a profit.
Developers, McClaren Life are set to build a new shopping complex in Dolphin Square, which is over the road from the new car park.
At the moment, work has not started, and the site is covered in rubble.
The developers agreed to subsidise the car park by £650,000 as it was expected it would run at a loss until the complex opened.
Executive member for finance, Tony Lake, said: "We will be taking measures to promote the car park better, with better signage to make the car park more used, but the problem is that the developer has not been able to get on with the development.
"But in the long term it will be a really good deal for the council because the council will benefit considerably in future years from this car park."
He added that the council was in talks with the developer to get the project started.