Nuclear deal 'at risk of collapse' due to Areva crisis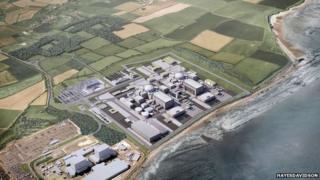 A deal to build a nuclear reactor at Hinkley Point in Somerset may not go ahead, an expert has claimed.
EDF Energy is due to build the £24.5bn plant, which would be the first in the UK in almost 20 years.
Steve Thomas, professor of energy policy at the University of Greenwich, said: "The project is at very serious risk of collapse at the moment."
Developer EDF Energy said it would not comment on his claim.
French state-controlled firm Areva was to invest 10% of the finance but has run into financial problems.
Last month the nuclear power plant won the final approval from European Union regulators after an investigation into whether the deal broke EU state aid rules.
'Over budget'
Areva was also due to supply its reactors. However, other similar schemes of the same design, including in Finland, have also experienced delays.
"Only four of those reactors have ever been ordered. Two of them are in Europe, both of those are about three times over budget: one is about five or six years late and the other is nine years late," said Prof Thomas.
"Two more are in China and are doing a bit better but are also running late."
Prof Thomas said it was "inconceivable" at this stage for Areva to contribute its 10% stake, which is the equivalent of about £2bn
EDF Energy originally had an 80% stake in the consortium, but this has fallen to 50% and it is trying to offload a further 15%.
British firm Centrica pulled out of the consortium a few years ago.
Two Chinese companies now account for 40% of the finance but now demanding to supply equipment to the project, which EDF Energy is resisting.
The BBC understands that EDF Energy is considering whether to bring in Saudi Electric, although this company has no nuclear expertise.
A spokesman for the Department for Energy and Climate change said: "We are confident in the Hinkley Point C project. EDF still expects the power station to come online around 2023."
The spokesman referred to assurances given by the French Economy Minister Emmanuel Macron that the French government is backing Areva.