Agency staff to tackle Somerset County Council's home care backlog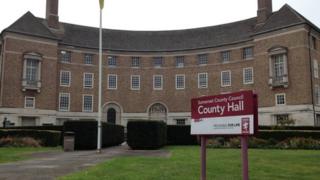 Somerset County Council is spending £250,000 on agency staff to process a backlog of hundreds of elderly people awaiting care need assessments.
A team of 12 staff is being brought in to assess whether the elderly people living at home qualify for care.
The council said with an increase in demand, social workers "simply can't take it on".
Unison said it was concerned decisions would be made "from a budgetary point of view instead of on a needs basis".
The council is facing a predicted £8.4m overspend in adult social care, offset against a £4.6m one-off payment from the Clinical Commissioning Group.
By bringing in a team of agency staff to tackle the backlog of home care reviews, the council has estimated it will save £2m.
"Some of the review work has not been as up to date as we'd like it to be," said Kim Curry, interim director of adult social services.
'Waste money'
"So we've had to put some resource into this piece of work because social workers, with the demand that they have at the moment, simply can't take it on."
In a bid to control its overspend, the council has also introduced an urgent plan, which includes scrutinising people's care packages and not placing people straight into residential care from hospital.
"If you discharge somebody directly into residential care from a hospital bed, particularly from an acute hospital bed, you're not giving them the opportunity to go home to see if they could manage in that environment," said Ms Curry.
"And if we continue to leave people with care packages, that may or may not be appropriate, that's going to waste far more money than if we can get this situation sorted out."