Bath and North East Somerset Council webcast watched by 22 people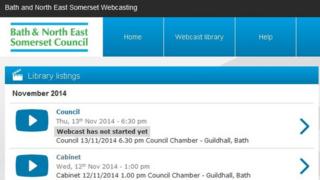 Live online council broadcasts in Bath have been watched by as few as 22 people, the BBC has learned.
Bath and North East Somerset Council has been broadcasting a range of meetings since early 2013 to improve its openness and accountability.
But 22 people watched the Bath Hacked broadcast in April - about ways of best sharing the council's data.
However more than 5,000 watched a recording of February's cabinet meeting on the council's catch-up service.
Figures released by the Liberal Democrat-run council under the Freedom of Information Act also revealed the debate on the launch of the Bath pound in April attracted 55 viewers and the launch of the council's transport strategy had 92 live viewers.
'I think it's justified'
The council said the cost of operating the webcasting kit "is anticipated to be £14,178 per annum".
The leader of the council's Labour group, John Bull, said the figures were "disappointing".
"The main basis of showing these online meetings is that people in Bath and North East Somerset need to know what councillors are talking about and how decisions are made.
"Being as some of the main meetings are attracting hundreds of viewers then I think it's justified.
"But perhaps there needs to be another look at the need to transmit some of these more specialised meetings."