South Somerset's children's centres 'unsafe' says Ofsted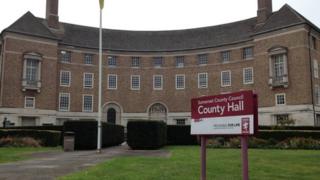 Children's centres in Somerset are failing to reach enough families, especially priority groups and not all sessions are safe, Ofsted has said.
The inspection watchdog checked the council-run centres in south Somerset and rated them all as inadequate.
Inspectors also said the council ended contracts with commissioned partners in a "shambolic" way with staff not having any printers or computers for weeks.
Somerset County Council has accepted the "disappointing" findings.
'Living in poverty'
The report said: "Too little information is gained from the local authority and partner organisations about local families and their needs.
"Leaders do not know the extent of participation of many priority groups, such as those living in poverty, naval families or families from Gypsy or Traveller backgrounds."
It stated that when information was available, only a small minority of key groups, such as workless families used the centres.
Inspectors found premises were left unsecured, with gates left open, and staff allowing parents to take photos of their children and others which could be shared freely.
A number of the children attending the centres were in care and subject to legal safeguards such as court orders which could be breached by publication of their pictures on social media sites.
When the contracts ended in March with commissioned partners Action for Children, Barnados, and the Children's Society, important information and good practice systems were also lost, the report said.
First inspection
Cabinet member for children's services, Frances Nicholson, said: "We are looking closely at all the points raised and making the necessary improvements."
The five main centres in Birchfield, Chard, Ilchester (Little Marsh), Oaklands and Reckleford were checked, along with outreach services and "de-designated" centres.
De-designated centres are where limited services are based, but they do not have to provide detailed records to Ofsted, and are instead judged as part of a wider inspection.
It is the first time children's services in south Somerset have been inspected collectively.
It is the fourth "inadequate" rating from an Ofsted inspection of a children's service run by Somerset County Council to be published in the last fortnight.