Part of the Kennet and Avon Canal still closed due to sunken boat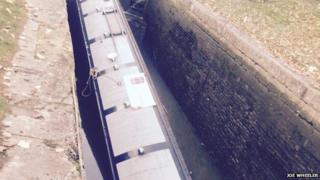 A trust working to reopen a stretch of the Kennet and Avon Canal, closed after a narrow boat sunk in a lock, said it was "weighing up all options" regarding its removal.
Part of the waterway was closed at Wash House Lock after the incident on 1 November.
The section is shut to boats between Bath Deep Lock, numbered 8/9 and Bath Top Lock, number 13.
A Canal and River Trust spokesman said it was "all hands to the pump."
"It is a popular stretch of canal so there will be boaters affected," he added.
"There are less boaters there than would be in the height of summer time, but nevertheless it's important we get it open as soon as we can so people aren't too badly affected."
The trust said it was important to make sure the job was done as "quickly and as safely as possible" but admitted the age and geography of the location was making things difficult.
When the boat sank, passerby Joe Wheeler said he saw what looked like a stag party group of men standing round drinking lager.
He said the boat was resting on the lock, which he thought might be damaged.