Ofsted criticises two Somerset children's care homes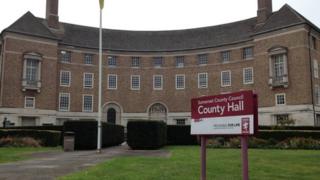 Children at a residential care home went missing, may have used drugs and were at risk from sexual and criminal exploitation, Ofsted has said.
West End Cottage at Chedzoy and Appledore near West Pennard are both run by Somerset County Council.
Both homes were deemed "inadequate" in all areas in the care home watchdog reports released on Thursday.
The council has agreed with the findings but will challenge "important factual aspects" in both reports.
'Distress and injury'
The points they wanted challenged were child sexual exploitation and young people missing from care, the council spokesman said.
Somerset County Council added that it did not consider the reports as "final" versions, having expected to see copies of them before being published on Thursday.
But an Ofsted spokesperson said: "These are final reports, published in line with our standard factual accuracy and moderation processes.
"The local authority was given time to respond to each report, and the authority's response was duly considered by the inspection team as part of this process."
Last month the council said the homes would close after concerns were raised about poor management and poor care.
In the first care home report, inspectors said: "The staff team do not have the necessary skills and robust strategies to protect young people from high-risk behaviours.
"As such, missing from home, substance misuse, exploitation and engaging in harmful relationships are commonplace for some young people.
"There is poor consideration of the potential impact these unsafe activities may have on other vulnerable young people recently placed in the home."
On two occasions at the same home "inappropriate physical intervention" has been used by staff against young people, resulting in distress and on one occasion, injury, the report said.
It also said the sanctions placed on the children were "unreasonable".
'Decisive action'
At the second home, inspectors found too many temporary staff were being used and said young people have been placed at significant risk of harm because the staff caring for them did not know about individual safety plans for the residents.
When it announced it would be closing the homes last month, the council said it was "to give young residents the care they deserve."
A council spokesman said of the report findings: "We had understood from Ofsted that the reports would be discussed at a longstanding meeting in place next week before they were published in their final versions, as part of a full and proper process.
"We have taken decisive action in the best interests of our young residents after our own investigations raised considerable concerns for us of the need to close these homes."
One of the homes has now closed, and the council's currently moving children out of the second home.