Somerset barn owl webcam spots female in nesting box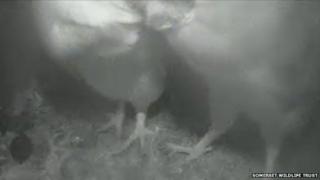 A webcam which attracted more than a million hits as nesting owls raised their brood has recorded a female in the box for the first time in months.
Somerset Wildlife Trust installed the camera last year to track the progress of two barn owls, nicknamed Boris and Brenda, who then hatched seven chicks.
Brenda flew off and left Boris in June but on Wednesday webcam viewers caught the first sighting of a female.
Eve Tigwell, from the trust, said it was "excellent news".
"We're beginning to see two owls in the box so they should now start to bond over the winter and then breed early next year," she said.
Seven eggs
"This could be Boris and Brenda but because they're not ringed we'll never actually know."
She said they did not ring adult owls - only chicks.
The owl webcam attracted interest across the globe as the seven eggs hatched over three weeks in March and April.
Thousands of people followed Brenda and Boris and their brood on the live camera. Six of the owlets fledged successfully but the youngest, nicknamed Burrowbridge, did not make it.
Online forum posts, after the recent appearance of a female owl, included "very excited that Boris has company again" and "great to see our owls back and great to see lots of people on here again".
The box is just one of 335 which were installed across the county by Somerset Wildlife Trust and the Hawk and Owl Trust to fight the decline in barn owl numbers.