Bolving contest on Exmoor to mimic stag mating call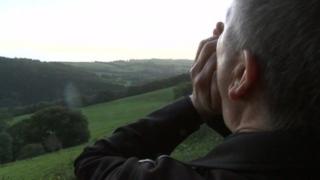 More than 40 adults and children have taken part in an annual bolving contest in Somerset, to find out who can best mimic the mating call of a stag.
The event, in its eleventh year, takes place near Dulverton, on Exmoor.
The adult competition was won by defending world champion Rob Follett, and the junior category by first-timer Harry Adderley.
Exmoor National Park ranger Richard Eales said the contestants attracted a stag which was "bolving back at us".
'Points for style'
He said: "Bolving is the name for the calls that red deer stags make in the rutting season.
"It serves as a challenge, both 'come and have a go if you think you're hard enough' and also 'I'm a big stag, listen to me and stay away'.
"The bolvers try to imitate the deer, and get points for style, authenticity and how successful they are at getting a real stag to answer their roar.
"There was a nice herd of red deer in the field below Draydon Rails and a good red stag was with them and ready to bolve back.
"He got really noisy when the competition finished."
He said Saturday night's event had also drawn about 150 human spectators.
There were 32 entries in the adult category and 12 junior entries
All proceeds from the event go to the Devon Air Ambulance Trust.