Winford scarecrows raise funds for boy's cancer treatment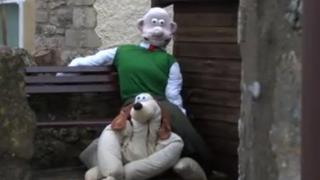 A fair has taken place to celebrate the creation of 129 scarecrows to raise money for a Somerset boy with cancer who may need treatment abroad.
Eight-year-old Harvey Hext, from Winford, has neuroblastoma and people from across the Chew Valley have been making the scarecrows to help him.
Designed on the theme of children's television characters, a trail has been set up and maps are being sold for people to find them.
They will be on show until 31 October.
Organiser Samantha Probert said she and her daughter, who is at school with Harvey, came up with the idea three years ago, and the trail started with 71 scarecrows in its first year.
"Crazily enough, it seems to have taken off and we have 129 scarecrows this year and we've sold about 1,000 trail maps in 10 days," she said.
"It's been incredible. The idea of scarecrows was to try and spread the story beyond our little village and it's now encompassing the whole of the Chew Valley."
She said: "Harvey's loved it. He goes around spotting his favourite ones.
"For the last 18 months, Harvey has been able to go to school every day and the cancer has been stable.
"Then, really tragically, last Tuesday just as we were starting scarecrows his routine scan showed the cancer has progressed in an area.
"So that money [being raised] is going to start being used quite possibly in the next few weeks."