Tributes to Bruton hit-and-run victim David Hick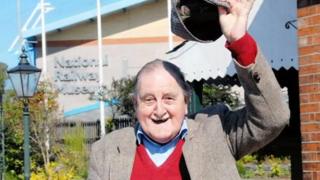 Tributes have been paid to a Somerset man in his eighties who was killed by a vehicle that failed to stop.
David Hick, a retired engineer, was found lying in Cole Road, Bruton, with head injuries at about 20:35 BST on Tuesday, and later died.
One friend, Vincent Evans, described him as "a fantastic wit and raconteur, a proper old school gentleman".
Police have appealed for witnesses and say the vehicle involved would have been substantially damaged.
Mr Evans said: "Always a smile on his face, an absolutely brilliant engineer, he built the most extraordinary working model steam engines from scratch, literally from the screws up.
"He used to be in music hall years ago."
Former Bruton mayor, Annette Pitman, said: "You get characters in a small place and they won't be forgotten very easily.
"I think there will be a certain amount of anger that somebody would have done this."
Minutes before he was struck, Mr Hick had been on the phone to his daughter, telling her he was going out to walk his two dogs and buy something to eat.
He was crossing the road when he was hit.
Det Ch Insp Phil Jones said: "It does beggar belief and certainly the impact has potentially caused damage to the windscreen [of the vehicle involved] as there was glass all over the road.
"The person that was driving the vehicle would have known that they were in a collision and should have stopped.
"My appeal to them would be 'come and find us before we come and find you'."
He appealed for information about two separate vehicles seen in the area at the time.
One is a light-coloured three-door hatchback which may have a large stripe on the roof.
The other is a dark-coloured Range Rover-type vehicle with a '61 plate.