Temporary toll road at Kelston set to recoup costs, says owner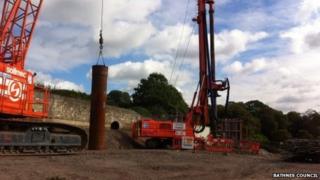 An unofficial toll road built to bypass a closed section of the A431 will see its costs recouped by early November, the owner has said.
Kelston Road, between Bath and Bristol, shut in February because of a landslip but is set to reopen by Christmas.
Businessman Mike Watts said he was "really, really chuffed" that 100,000 journeys had been made on his road.
The toll road is charging £2 per car and 150,000 journeys are needed to recoup the building costs, he added.
"We have this race against time because work on the A431 has started and they are publicly saying it will be opening by Christmas but it could happen earlier.
"This is a little piece of history here, as soon as the A431 opens we have to pull up the road and it will be returned to two fields. No-one will know what has been here," said Mr Watts.
The businessman has said the road cost £150,000 to build and estimated it would cost a further £150,000 in running costs.
Only vehicles under under 3.5 tonnes in weight are permitted on the 1,300ft (400m) track which is about 22ft (7m) wide.
Officials at Bath and North East Somerset Council have said the road repairs for the Kelston road will cost in the region of £1.5m to £2m.