Somerset County Cricket's Old Pavilion is demolished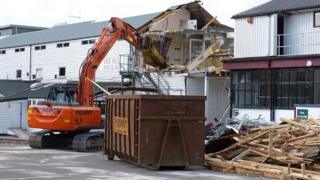 A historical pavilion at the County Ground in Taunton is being knocked down to make way for a new stand.
Somerset Cricket Club's Old Pavilion was built in 1881 and is located on the south side of the ground.
The final match prior to the demolition was played on 18 September between Somerset and Middlesex in the County Championship.
The new £3.8m Somerset Pavilion will be built in its place enabling the club to host international matches.
It will comprise covered seating, alongside a large bar and entertainment area, corporate facilities and a rooftop viewing area.
Construction work is expected to be completed by next spring.