Bodybuilders 'exploiting' Taunton needle exchange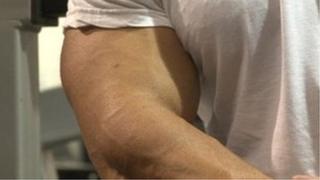 A homeless charity has been forced to tighten up its needle exchange rules after being "exploited" by steroid-using bodybuilders.
Taunton Association for the Homeless (TAH) said its service was for drug users with "chaotic lifestyles" - not steroid users looking for free needles.
Justin Roxburgh, from TAH, said bodybuilders could buy needles online.
He said TAH would be reducing its service, adding that other agencies in the town offered needle exchanges.
Mr Roxburgh said it was difficult to be precise on figures but a "growing number" of bodybuilders had been using the exchange.
Clean needles
"But it's very obvious to us from their appearance when somebody is asking for needles for steroid use," he added.
He said the TAH needle exchange had been running for five years, but now other places - including Asda's pharmacy - offered a similar service.
He said: "We are reducing the service at TAH, not closing it. But we will not be issuing clean needles to all.
"The object of the exercise was to offer drug users clean needles - not steroid users."
In the past year, the charity said it had collected about 1.5 tonnes of used needles - a rise of between 10% and 15% from the previous year.