Farming minister George Eustice defends flood pay outs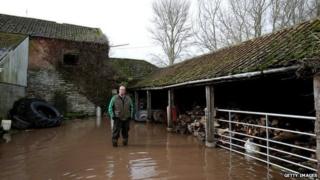 Farming minister George Eustice has defended the pace of flood recovery payouts which Somerset farmers have described as frustrating and complex.
So far £5.5m applied for out of the national £10m Defra fund has resulted in payments of £233,000.
Mr Eustice said: "We've got to get the receipts in before we can pay out."
One farmer was initially rejected for funding despite his flooded property being featured in national media coverage.
Defra demanded more photographic evidence to prove the effect the floods had on his business.
'Completely submerged'
Farmer James Winslade said: "I put in all the maps, all of the photos back in April but they said that the photographs weren't good enough, they didn't prove that I had flooded.
"They were aerial photos of my parents' farmhouse, my farmhouse which are 300 yards apart and a vast amount of area of land with no green grass showing at all, completely submerged.
"Out of the 840 acres we farm here, 810 was under water."
Mr Winslade applied for £9,000 to pay for grass seed in April and got the money on Tuesday after a six-month wait.
Mr Eustice said: "Mr Winslade's was a case where they didn't have all the information they needed in order to be able to pay out.
"We went the extra mile, sent a Defra official out there to meet him and process the claim, and he's been paid now."
Another farmer, Heather Venn, was advised to take photos to prove grass seeds had been planted.
Mrs Venn described the process as a "nightmare" and being forced to "jump through hoops" having applied for £4,000 for machinery to plant the seeds.
She said: "I had an official come and inspect the machine, although I had taken the photos, he had come down from London.
"I thought it was incredible - it almost made me feel they did not believe me."
The National Farmers Union (NFU) has said many found the process complicated.
An NFU spokesman added: "A more straightforward process would have encouraged farmers to utilise the fund, reduced their frustration and meant the money could have got to where it is needed more quickly."
There have been 453 applications made claiming £5.5m in total. So far Defra has approved £4.8m of applications.
The fund closed for applications in late June.
Defra said receipts worth £372,000 have been received so far nationally.
In Somerset, 169 applications worth £1.8m have been made.
Defra said a total of 16 visits had been made in the South West by its officials to verify claims.