Somerset 17th Century tokens collection fetch £18,600 at auction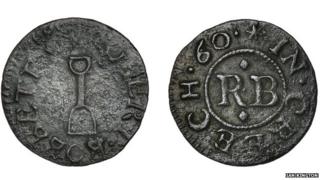 A collection of coins made during the 17th Century in Somerset has been sold at auction for more than £18,000.
The coins, known as tokens, were issued by traders when the state failed to provide enough small denomination coins but were not sanctioned currency.
The collection has the only known token from Batcombe and unique Farthings struck by John Chick in Spaxton and Robert Bobbett in Creech St Michael.
The 366 tokens in 72 lots made £18,600 at the sale in west London.
The collection was put together over 25 years by David Young, 66, who lives near Wellington.
Mr Young, an accountant, decided to collect tokens as they were cheaper than coins and "interesting in that every one was different and they were issued by different people".
Specialist coin auctioneer Dix Noonan Webb described the collection as the "most important ever to be dispersed".