Bath man will 'fight like anything' to save rare Victorian postbox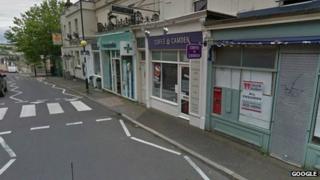 A Bath man said he will "fight like anything" to ensure a 140-year-old walled postbox is saved from being removed by the building's new owner.
The Victorian postbox is installed in the front wall of a former Post Office which closed in 2008.
New owner, Harish Raichura, plans to open a shop there after renovations.
But Colin Alexander-Jones, whose great-grandfather had the box put in during the 1870s, said it was only one of two of its type in the country.
Royal Mail said there were four "alternative posting facilities within half a mile" of the Camden Road box.
Mr Raichura said the building was in quite a dilapidated state and needed to be repaired before he could open a new business.
He said: "It's a small shop and [the post box] occupies something like 20-25% of my shop frontage. In a small space, it's very useful space to have."
'Incredible letter box'
He said he did not want the "local community to lose out" so he had suggested the postbox could be moved across the road to his other shop.
He said he was still waiting to hear from Royal Mail about this suggestion.
Colin Alexander-Jones, from Bath, said the postbox was "very special" to him.
He said: "My great-grandfather had it put there in the 1870s. It's just a walled letter box. As far as I know, there are only two of them in the country.
"Inside the box, it's oak-panelled and it really is an incredible letter box. My mother's family told me to fight like anything to make sure it remains where it is."
A Royal Mail spokesman said it was in "discussion with the new owners" but would remove it "at their request".
He said if the box were removed they were considering donating it to Bath's Postal Museum and said the wooden lining made it of historical interest.