Man-in-a-box Terry Williams wants 'roast' on release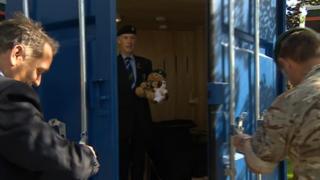 A fundraiser who has spent 19 days sealed inside a shipping container said a roast dinner was top of his wishlist.
Terry Williams, from Henstridge, was incarcerated in the 10ft (3m) box on 6 September in a bid to raise £80,000 for The Rifles' Care for Casualties appeal.
The ex-serviceman was released back into the world at 11:15 BST, raising a more modest £3,000 for charity.
He said: "I couldn't have anything fresh in here, so first thing I want is to get my teeth into something meaty."
Mr Williams, who served in the 1st & 6th Battalion Light Infantry in the 1970s, has spent 453 hours - an hour for each UK soldier killed in Afghanistan - locked inside the container in Cheddar Woods holiday park.
The steel container, kitted out with a bed, hob, sink, "baby bath" and toilet, was also set up with a webcam to stream live images from inside the "sweat box", 24 hours a day.
"The toughest has been the last few days - the time has just seemed to stand still or drag by," he said.
"But I'm relieved it has come to an end and I can see my family again."
'Mission accomplished'
Being inside a box for so long, the 57-year-old said had "tortured" his senses and "physically pounded" his "whole being".
And 11 days into the challenge, he said he had been "gutted" by the poor response and donations he had received.
"I was at a low point at that time but the challenge wasn't just to raise money," he said.
"I made a promise that I would honour every soldier killed in Afghanistan and I've achieved that so mission accomplished - I just would not want to repeat it."