Bridgwater mosque has community centre hope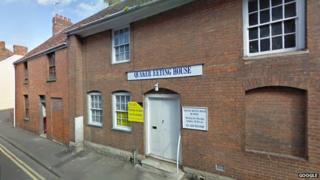 A former Quaker meeting house in a Somerset town is set to be turned in to a community centre and mosque.
The Friarn Street building in Bridgwater was bought at auction in June and the aim is to refurbish it at a cost of £100,000.
Bridgwater Islamic Centre and Mosque also got a £2,500 grant from Sedgemoor District Council toward the plans.
Mohammad Miah, treasurer of the group, said: "We'll open our doors to everyone so people can see what we are about."
'True believers'
The grant will help fund minor repairs and renovations to make the derelict main hall ready for prayer meetings.
The group had originally been turned down for the grant in July, as it was lacking a community element.
This has since been re-dressed, as the centre will now to be open to non-Muslims so more can be learned about the Muslim culture, such as through school trips.
Arabic lessons will also be available for children and the group also plans to organise day trips for elderly people.
When making the decision to allow the grant, the council said the centre would help integration and also serve a growing migrant population in the district.
Conservative, John Swayne, from Sedgemoor District Council's grants committee, said: "I think it's very important that the community in Bridgwater and Sedgemoor have the opportunity to find out what true believers in Islam are like rather than sadly looking at the media and seeing one small minority of extremists."
A backroom in the building is already used for Friday prayers and the hope is worship will be increased once the main hall revamp is complete.