Bath and North East Somerset Council's £500k loan to solar farm questioned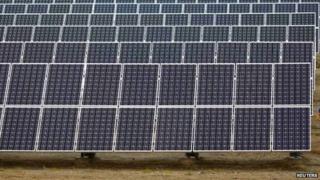 A decision by a council to loan £500,000 to a solar farm project near Bath may have to be reconsidered.
Officers from Bath and North East Somerset Council agreed in principle to loan the cash to Wilmington Farm Solar Array project in August.
But since then 10 councillors have asked for a review of the decision which affects land on the west side of the A368.
A panel will now scrutinise the decision at a meeting on 24 September.
The panels will be built on land to the south of Hunstrete and west of Marksbury.
The original decision to loan the money was taken by council leader Paul Crossley, and Councillor David Bellotti, who is responsible for community resources.
Councillor Robin Moss, chairman of the call-in panel said: "It is important to scrutinise financial decisions as Bath and North East Somerset Council has a good reputation for sound financial management."
He said the panel was also keen to hear what the public thought about about the issue.
Bath and West Community Energy, has already raised £500,000 towards the £2.6m project.
With the council loan, the energy co-op will be looking to raise the remaining £1.6m in a share offer.