Westonzoyland flood barrier 'may not be viable'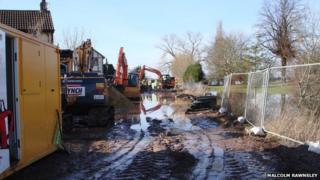 Plans for a permanent flood defence in part of Somerset may not be viable, the Environment Agency has said.
Villagers in Westonzoyland were told although temporary defences had worked well during the winter flooding the ground is unsuitable for drilling into.
A spokesman said it is now looking at alternatives which could include portable and temporary flood defences.
But one villager called on the agency to deliver what it had previously promised - a permanent barrage.
'Scary situation'
"We were planning to construct a sheet pile wall as a permanent defence to protect properties in the village which may be at risk in a future extreme flood," an agency spokesman said.
"However, recent investigations have shown that the ground conditions are unsuitable for this type of construction, unless we use intrusive methods, such as drilling into the ground.
"We no longer consider this to be the most suitable option... and are discussing alternative options with residents, which may include demountable defences which have been used to good effect across Somerset for a number of years."
But Linda Kondys, who lives in Grays Avenue, said the situation in January was "scary" and called on the agency "to install the permanent barrage it promised at the last meeting".
"That's what they said they'd do and that's what we expect them to do," she said.
Malcolm Carson, from Westonzoyland Parish Council, described the water in Grays Avenue then as "thigh deep".
"The water was lapping at many doorsteps, the drains were all full, and the residents were extremely worried they'd flood," he said.
"We had water from the village which couldn't get out and there was water outside that was trying to get in."