Bath river towpath may be shut at night after sixth death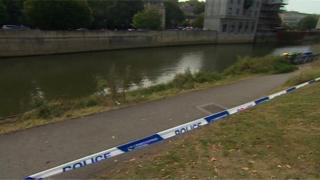 A stretch of towpath next to the River Avon in Bath, where six people have died since 2009, may be shut at night.
It follows the recovery of the body on Tuesday of the missing 18-year-old student Sammuel Amin.
Mr Amin was last seen outside a bar in the the centre of Bath in the early hours of Saturday.
Leader of Bath and North East Somerset Council, Paul Crossley, said several safety measures were being considered.
Mr Crossley said: "We are considering all options. One of the things we're looking at is shutting off the path at night. It's certainly something we'll consider."
Mr Amin, 18, from Twerton was due to begin studying at university next week.
Director of student services at Bath Spa University, Chris Ellicot, said 2,000 new students arriving for the new term would be warned about the dangers of the river.
"Part of what I will say to them will be to remind them of the need to stay safe at night in Bath and to look out for the river."
An online petition calling for the council to improve safety has been signed by more than 2,500 people.
The council's strategic river group has been allocated £400,000 to improve safety in the area.
Three people have died after falling into the river, within the past year alone.