Paulton flypast to honour WW2 glider dead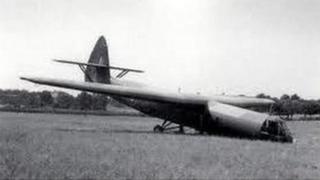 A remembrance service has been held in a Somerset village to honour soldiers who lost their lives during a World War Two operation.
Gliders carrying 23 soldiers crashed in the Double Hills field in Paulton, while en-route to the Battle of Arnhem in 1944.
Each year a remembrance service is held.
The battle was immortalised in the book A Bridge Too Far, and was subsequently made into a film of the same name.
The service was led by Lt Col John Humphreys, a 93-year-old veteran who was captured during the fighting for the bridge at Arnhem.
The Army Air Corps also flew over Paulton in honour of the soldiers who died.
Peter Yeates, who has organised the annual remembrance event since it began 35 years ago, said: "It seems to be gathering more importance as the time goes on," he said.
"Of course the pain in families never goes away. It's like yesterday for some many of them. The people of Paulton village take a great part in it."
The Battle of Arnhem was part of the biggest airborne military operation ever mounted - Operation Market Garden, which began on 17 September 1944.
Its aim was to gain control over the major bridges over the Dutch rivers of Mass, Waal and Lower Rhine, clearing the way for an Allied advance into northern Germany.
In total more than 16,500 paratroopers and 3,500 troops in gliders were dropped for the whole operation, which was jointly planned with the US military.
The American landings were a success, but this was not the case for the British, whose drops were located intentionally far from their bridges.
It took the British paratroopers four hours to reach their target and, by that time, the Germans had been tipped off.
On 25 September, the ninth day, the order was given to withdraw.
Overall, the Germans took around 6,000 men captive at Arnhem, more than half of them were injured.